Boost business relationships with one card.
On average, ten billion business cards are printed each year, some of which end up in the landfill. You can now have digital NFC business cards printed on Recycled Plastic, Pulper and Wood to reduce waste and our dependence on natural resources. After programming your smart business cards, you'll be able to spring your customers to the digital experiences you've made by simply tapping the card against their smartphone.

---
Looking to reduce the business cards you print?
Tell us more about the project. We specialise in the production and digitalisation of NFC smart business cards for your team. You can engage your customers in exciting new ways and always ensure they have the latest contact details to hand when used with our unique SaaS platform.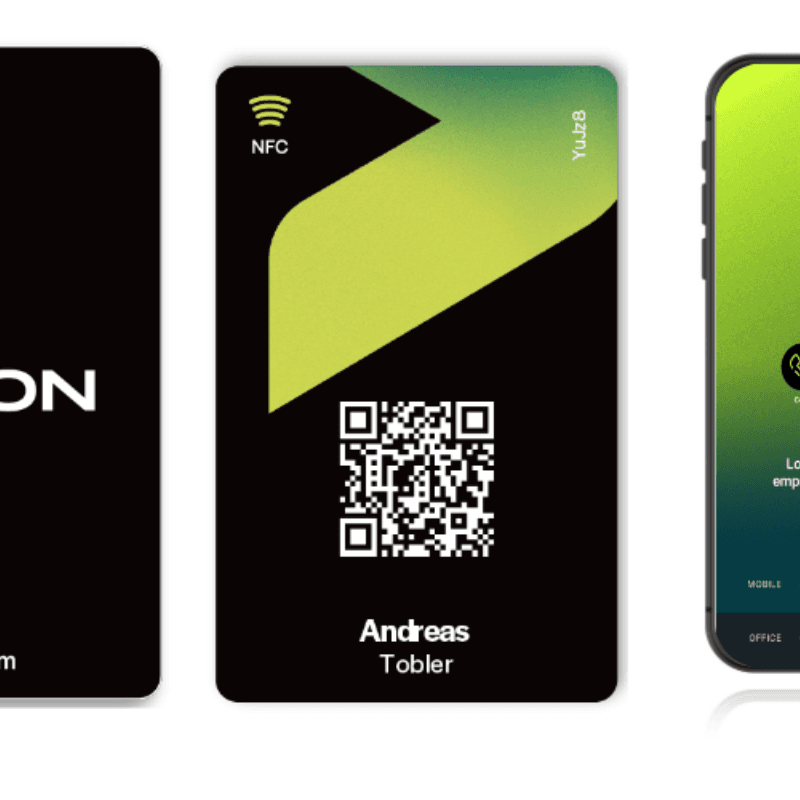 Digital Business Cards
NFC (Near Field Communication) business cards are physical cards that contain a small NFC chip. This chip can be read by NFC-enabled devices, such as smartphones, allowing users to quickly and easily exchange contact information or access digital content, such as a website or online portfolio. NFC business cards are a convenient and modern way for businesses and professionals to share their contact information and make a memorable impression on potential clients or business partners. Get personalised for your team and blank cards for new starters. 

How we encode a QR code and NFC chip for your smart business cards
A URL is generated from the platform and encoded onto the card. This points the card to the platform and enables changes to be made to the page linked to the URL. Allocate blank cards to new users in seconds. 
Free Bio Page templates or custom 
Generate from 1-100k Urls
Simple Bio page set up
Bio page content can be changed at any time
Flexible User management
Invite user to personalise page - Bulk invite/Single invite
Upload user data in csv file
Permission management - Approve/edit/cancel
Analytics - See taps by URL/campaign
Who can use Smart business cards? 
QR compatible with all smartphones. NFC compatible with all Android and iPhones 7 and later. 

What is a vCard? 
A vCard, also known as a virtual business card or electronic business card, is a file format that is used to store and exchange contact information. vCards can be created and edited using a variety of software applications, and are often used to share contact information via email or messaging applications. vCards can contain a wide range of information, including a person's name, job title, email address, phone number, and physical address. They can also include a photo, social media links, and other relevant details. By using a vCard, you can easily share your contact information with others and import it into your own address book or contact list.
Link options
+vcard link
+Payment link
+book appointment link
+ video link
+ Contact details
+ articles
+ work examples
+ Website links
+ Customer care & support
+ Link to careers
Eco-properties
Sustainable smart business cards
You can now have a more natural NFC business card free of metal and plastic creating a recyclable solution to reduce your company's environmental impact.
Introducing our patent-pending Pulper smart business card. Made of wood fibre, a miniature RFID chip and high conductivity printed electronics on renewable paper, without plastic layers and harmful chemicals.